Words and Images: Klean Kanteen
The harvest season is upon us. One thing that means to us is good craft beer and Oktoberfest! To celebrate, we took a little pub crawl of our own. We visited just a few of our favorite breweries around the country who are serving up more than just tasty brews, but also supporting our mission of reusable solutions. We are beer lovers and we love creating solutions based on beer. We partner with great breweries not just to help promote their brand, but to provide a durable, beautiful product—and a commitment to sustainability. That's a message that all of us beer-lovers can definitely raise a toast to.
There are a lot of amazing companies out there continuing to push the craft brewing industry to be more sustainable. From production and packaging to power and resources used in the brewing process. All the way from the hops and crops to delivery of bottles, cans or cups at events. Breweries need to continue to explore all facets of their business, and take an inside look at the challenges and rewards of operating a rapidly growing industry in an environmentally conscious way. Reducing waste and impact along the way can go hand-in-hand with enjoying a tasty pint at home or at the pub.
"Klean Kanteen is a family-run company that makes industry-leading products, several of which facilitate craft beer enjoyment. Needless to say, there is a firm sense of kinship! The 64oz Stainless Steel Growler can be filled with anything to enjoy, whether that's water or your favorite Firestone Beer."
- Jamie Smith, Director of Marketing and Brand, Firestone Walker Brewing
Whether buying merchandise for a gift shop and tours, supporting an events team, or selling growlers in a tap room, breweries also need quality, durable products that celebrate the quality of their craft. Light, heat, and oxygen make a great brew go south quickly. Our 18/8, food-grade stainless steel solutions help protect beer from the elements, maintain the integrity of the beer (stainless steel doesn't impart flavors) and eliminate single-use can and bottle waste. That's why so many breweries are choosing to go Klean.
But enough about us and our mission. Let's start the pub crawl and get to our Oktoberfest Beer Flight. Even if you can't make it to any of these 6 great breweries, visit your favorite local pub and enjoy a pint. Post your photos and tag #kleancobrand when you see custom Klean growlers and pints. Enjoy your Klean pub crawl!
Paso Robles, CA
Founded on old-world brewing traditions and Californian ingenuity, Firestone Walker has always been committed to making the next beer better than the last. The concept of "reuse, repurpose and recycle" comes naturally to a brewery that crafted its first batch using converted winemaking equipment here on the Central Coast.
Chico, CA
Based in our own back yard, we've loved them for years as our "local beer". And turns out, good beer can do a lot of good. They shook things up in the '80s, and it helped launch a beer revolution that's in full force today. Sierra Nevada keeps pushing boundaries, whether that's in the brewhouse, with sustainability, or in the great outdoors.
Waterloo, IA
The midwest has some great beer too, it's not just on the coasts! Sustainability is the quality of not being harmful to the environment or depleting natural resources, and thereby supporting long-term ecological balance. SingleSpeed Brewing is supporting this effort through sourcing, energy, community and preservation.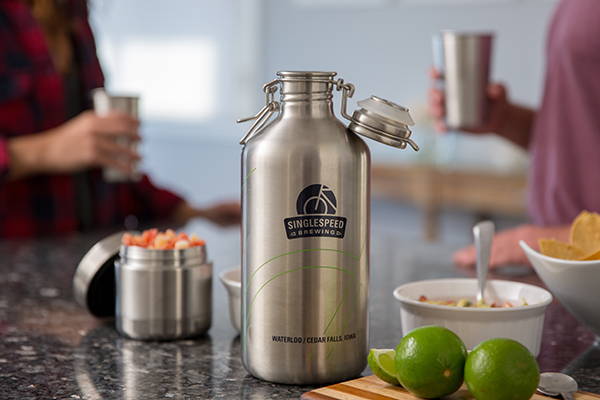 Minneapolis, MN
Surly gives back to their community with Surly Gives A Damn (SGAD). They contribute to the fine organizations that are making the North a better place to live through charitable donations, partnerships, and volunteer events. Surly volunteers are a really active, passionate bunch and man do they give a damn.
Fort Collins, CO
Like Klean, New Belgium is a fellow 1% for the Planet and B Corp member. In 1991, they set out to build a craft beer movement and prove business could be a force for good. We're happy to see good momentum in both of these areas today, and employee-owned New Belgium continues to shares our core values and goals.
San Diego, CA
Pure believes every beer should tell a story; just like a world class meal, a perfect cup of coffee or a timeless wine, and they aim to bring that same level of passion, creativity and artistry to the ever evolving craft beer community. Sounds like a perfect fit for Klean products.
We are beer lovers and we love creating solutions based on beer. Our stainless steel insulated bottles also act great as growlers. Steel pints and insulated tumblers won't break or retain flavors and are the perfect solution to the red solo cup.