Seven Simple Ways To Live More Sustainably
Being more mindful of our impact on the planet doesn't need to be associated with affluence, instead sustainable living can oftentimes honor our wallet while honoring the planet.
Many voice that they neglect making more environmentally conscious decisions because of the perception that it's too expensive/unattainable or because they simply don't know where to start. Here are some ideas that don't require you to spend more to make an impact:
1. Start With a Waste Assessment
An exercise I recommend for everyone is to take a look into the amount and the most common type of waste you create. For one day, count the amount of single-use items you touch / use. Keep count from the moment you wake up to the moment you go to bed. I bet you will be surprised! Start there. Find alternatives to the items you use most often.

For me, one thing that I noticed we were constantly using was packaged nut milks (for smoothies, coffee, etc). For you, this might be something in your bathroom or plastic food packaging or to-go coffee cups. Our lifestyles vary but this exercise helps us be honest with ourselves and make a plan catered to our own unique habits.

A book I recommend looking into as well is How To Give Up Plastic (try to get it from your library or buy second hand / locally)

There is a big misconception surrounding the realm of 'sustainability' and it's that you have to 'buy your way in' by going out and purchasing a bunch of new zero-waste tools right off the bat. It's actually much more conscious to USE WHAT YOU HAVE until the end of the item's life cycle and when you need to replenish, replace it with something sustainably made, reusable or high-quality that will last a lifetime.

Get into the habit of reusing and repurposing things you already own; look at your wardrobe, home décor and furniture. Brainstorm ways to repurpose some of those items.

Before you buy anything new, take a look at what you already have. Chances are, you have something that could be used in a new way, or at least used temporarily to accomplish a task or goal.

In a world that is centered around consumerism, simply buying less and buying better quality items is a radical act. Read this piece that I wrote & watch this film to expand on this.
4. Switch from Plastic Bottles to one Reusable Bottle
More than a million plastic bottles are added to landfills EVERY MINUTE … That's more than 20,000 bottles every second.

Sadly, unless you know how to recycle and repurpose plastic yourself, you don't know where it goes or how it's handled once you throw it "away". It is estimated in North America that 70-75% of plastic beverage bottles sold are not recycled meaning that they end up in landfills and our oceans, lakes and rivers due to improper waste management. Plus, consuming beverages out of plastic is detrimental to your health – look into PFAs & plastic toxicity.

Opt for one of Klean Kanteen's non-toxic, reusable vessels (I especially favor the ones that are made from 90% recycled stainless steel!) with interchangeable caps for different needs / uses.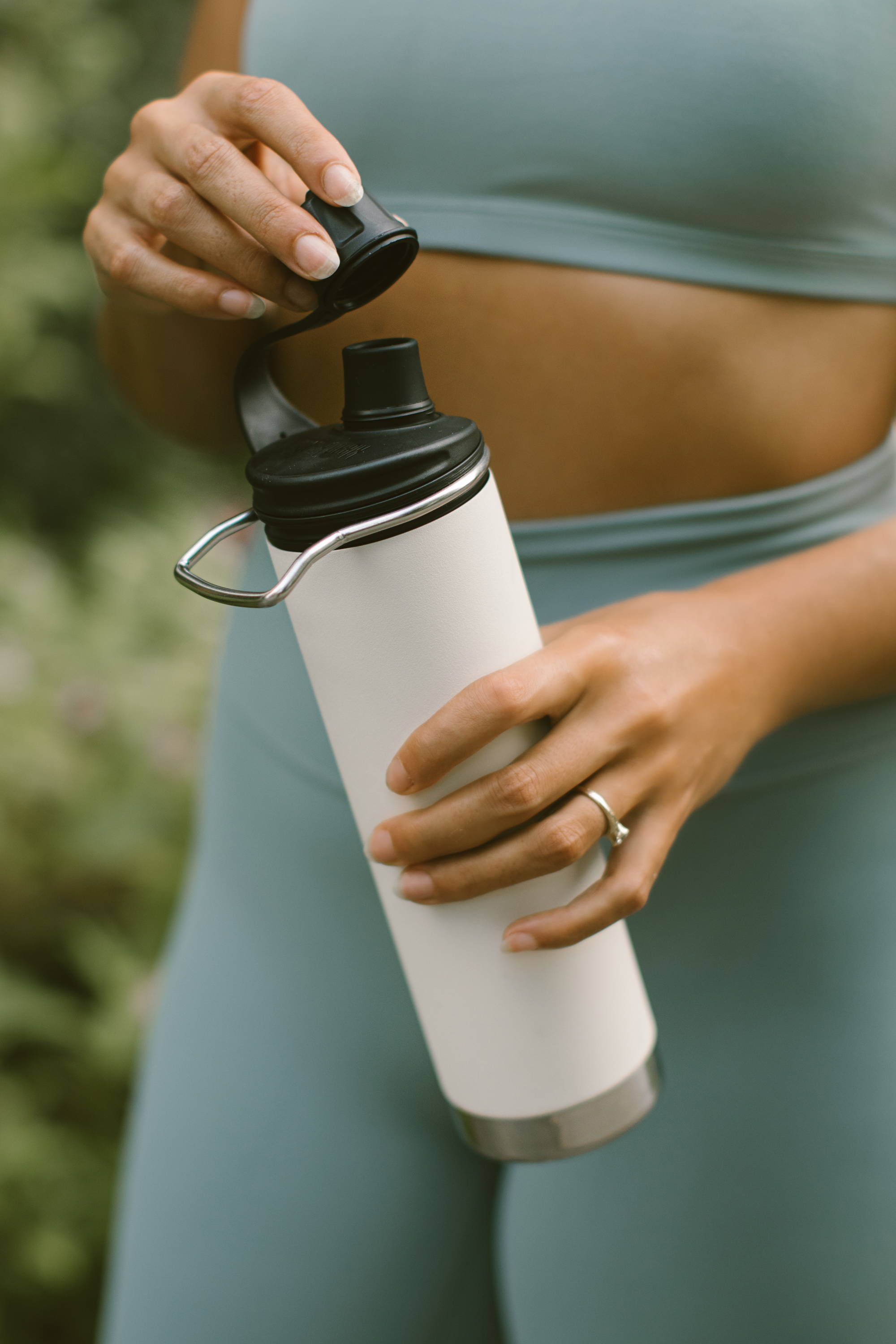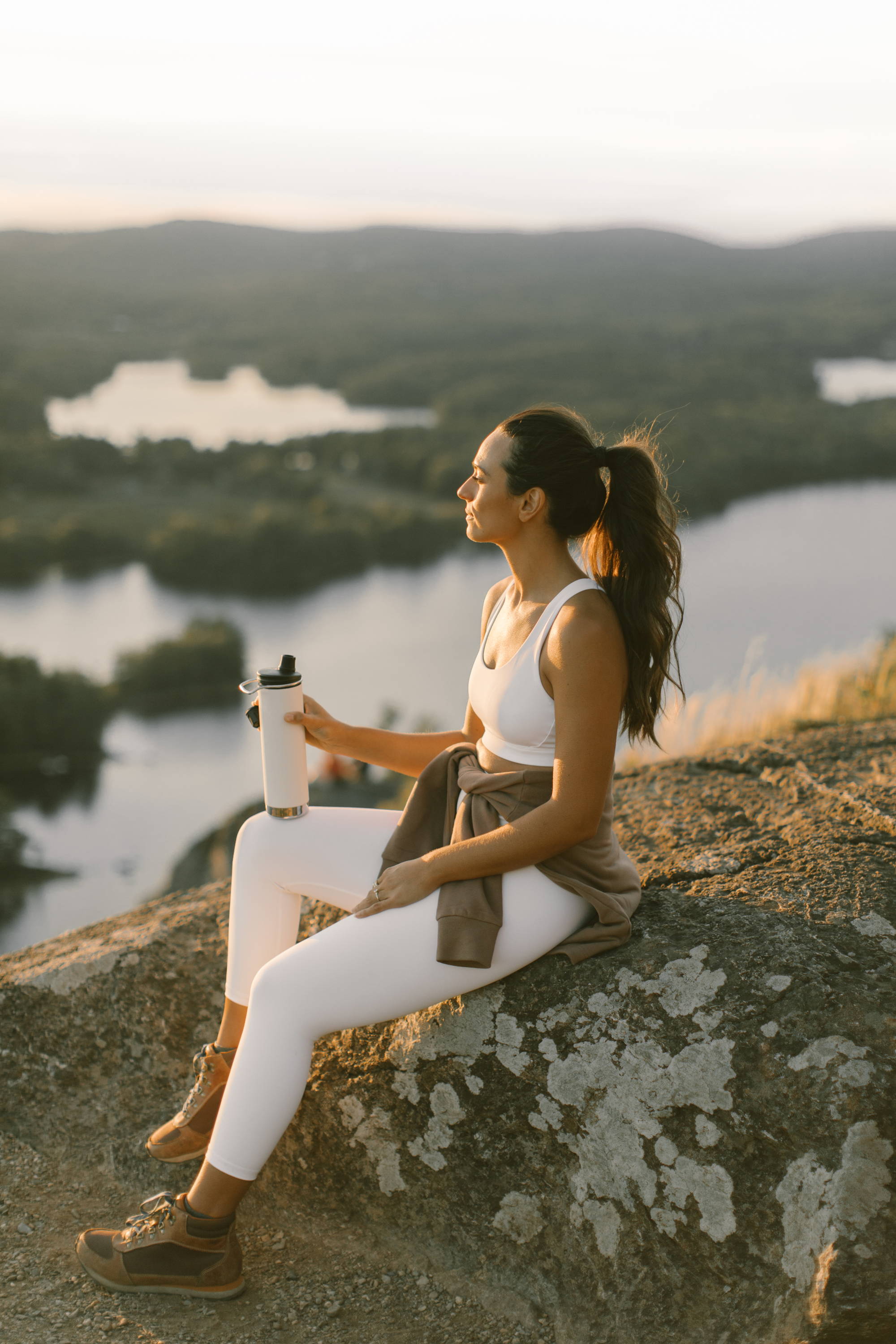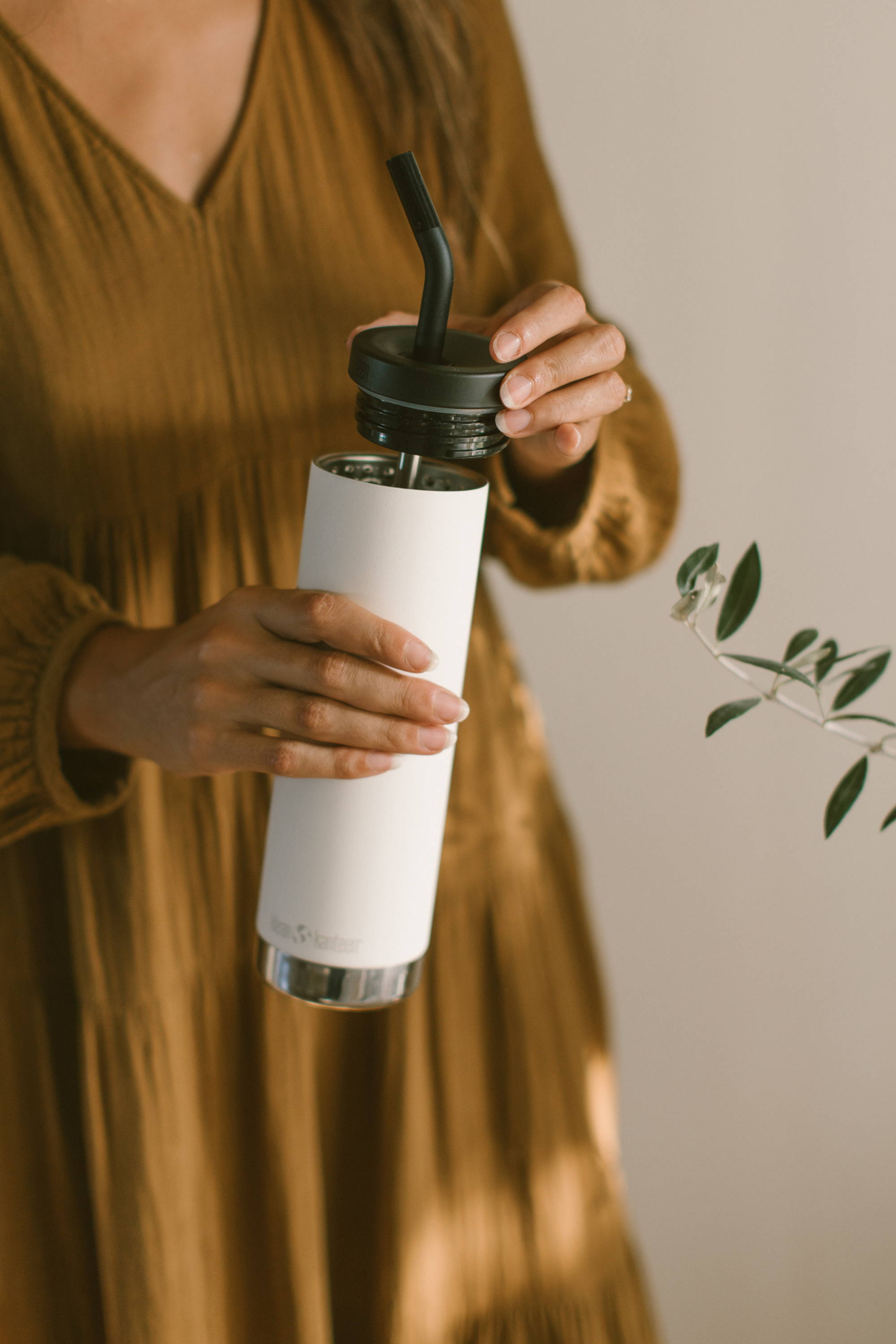 5. Examine The Way You Eat
Something that we do every day, multiple times a day is eat. Where we get our food, how it got on our plate and who grew it are things we are very disconnected from in this current moment. Let's change that. I highly recommend seeking out local allies who are growing, raising and making food with intention, employing sustainable and regenerative practices.

One of the best ways to do so is by looking into a local CSA (learn more here) or finding a local farmer's market, butcher, fisherman, etc. to purchase seasonal food. Also! Seek out bulk shopping for your favorite pantry / household essentials.

Reducing our consumption of commercially farmed anything is extremely impactful and important, especially meat and fish. Find your local allies and support the people in our communities who need us.
According to a report from the National Resources Defense Council, 40% of food produced in the United States is never eaten; instead, it takes up more space in landfills each passing year.

And 95% of our food scraps in the US are thrown away directly into landfills, creating methane gas. Composting is an easy way to divert our scraps, eliminate harmful greenhouse gasses from contributing to climate change and instead creates nutrient rich, incredible soil. This is one way we turn 'waste' into a resource. You can join a community composting program if you're in a city or start a backyard compost pile if you have a bit of outside space!

Plus, composting eliminates the stink in our trash can which decreases the amount of times we take out the trash, reducing a lot of plastic waste.

7. Carry Reusable To-Go Essentials: Coffee Mug, Utensils & Straw

Something that is vital in living a more conscious, sustainable life is learning to actively REFUSE plastic or "bioplastics"when out in the world. When you carry your own necessities, it's much easier to say, "no cup please" or "no utensils please" because you are prepared with your reusable tools and have no need for single-use anything.
Klean Kanteens are multi-tools. Our interchangeable lids easily transition from morning coffee to afternoon smoothies, water at the gym, beer on draught—and everything in between.